Steven A. Levine
Coordinator for Educational Programs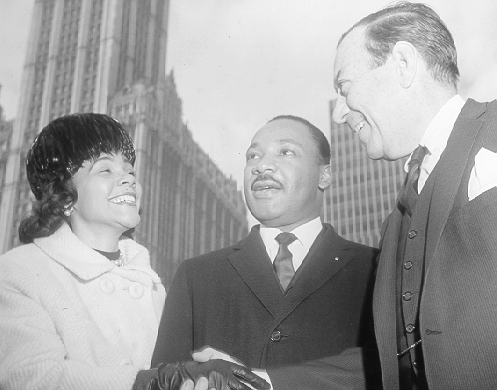 Dr. Martin Luther King and Coretta Scott are welcomed by Robert F. Wagner at City Hall upon King's return to the U.S. after receiving the Nobel Peace Prize, December 18, 1964.
Dear Friends and Colleagues,
In the spring of 1963, Birmingham, Alabama was the focal point of the civil rights movement. Mass demonstrations, sit-ins and protests led to the arrest of hundreds, including Dr. Martin Luther King, Jr., by the brutal police force of Commissioner of Public Safety Eugene "Bull" Connor.
With the nation's attention focused on Birmingham, New York's Fur and Leather and Machine Workers Union organized a Rally for Equality on May 28th, 1963 to support the civil rights struggles in the South. Scheduled to speak at the event was Mayor Robert F. Wagner. What was striking about his speech was not Wagner's support for the freedom struggle in the South, but for its focus on civil rights in New York City. He declared "If all we are going to do for the freedom fighters of the South is to express our sympathy for them, that might be helpful, but it wouldn't be enough. It might even be considered a little hypocritical?"
He used the rally to recommit his administration to fighting discrimination in New York City, issuing an executive memorandum directing all city agencies and departments "to review and re-assess all their present programs and activities pertaining to equal rights and opportunities for all" with the goal of expanding them or launching new ones. Wagner was sincere, but he was also responding to a growing civil rights movement organizing to desegregate housing and public schools, end discrimination in employment, and empower New York's growing African-American and Latino populations.
Wagner's speech was a harbinger for the increasing polarization of New York City on racial issues. Even as he gave his speech, his office had created a folder for "hate mail" from people opposed to his civil rights initiatives and his support for the movement in the South. (Sample) Simultaneously, the slow pace of change was leading to greater anger and impatience in the African-American community. A year later, the NYPD would be putting down an uprising/riot in the streets of Harlem and Bedford-Stuyvesant, after an off-duty police officer shot and killed an unarmed African-American high school student.